Virtual Round Table "Global Social Policy at 25"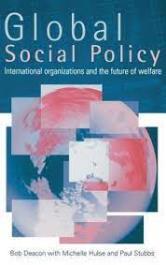 You are coridally invited to Virtual Round Table
"Global Social Policy at 25"
that will take place on Wednesday,
18 January 2023
, from 16:00 to 17:30 CET. This round table will addresses the field of global social policy 25 years after the publication of the book
Global Social Policy: International Organizations and the Future of Welfare
authored by Bob Deacon (with Michelle Hulse and Paul Stubbs).
Short introductory remarks will be provided by Jimi Adesina, Noémi Lendvai-Bainton, Rianne Mahon, Francine Mestrum, Isabel Ortiz, Shahra Razavi and Fiona Williams, followed by a discussion facilitated by Alexandra Kaasch and Paul Stubbs.
The round table will be held via the
Zoom
platform in the English language. If you are interested to join, please write to Paul Stubbs at
pstubbs@eizg.hr
to receive the
Zoom
link.
More information about the round table can be found in the attached
document
.