The Institute of Economics, Zagreb winner of the 2018 FocusEconomics Analyst Forecast Awards for the most accurate exchange rate forecaster for Croatia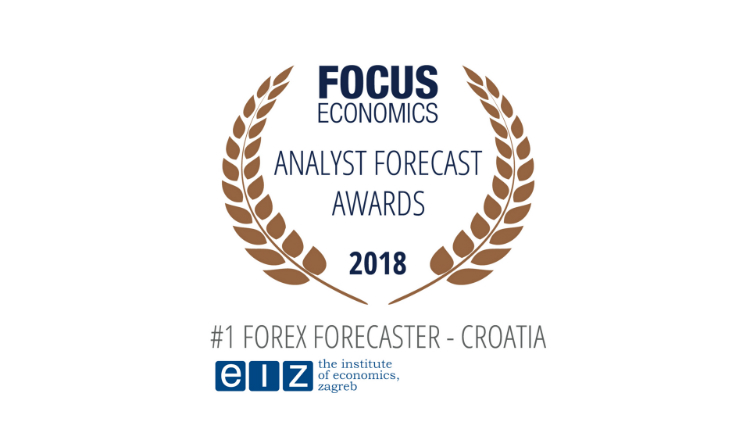 The Institute of Economics, Zagreb has won the
2018 FocusEconomics Analyst Forecast Award
as the most accurate exchange rate forecaster for Croatia in 2017. The Institute's research team has been recognized as the best exchange rate forecaster for Croatia's economy by FocusEconomics in its yearly Analyst Forecast Awards.
The yearly FocusEconomics Analyst Forecast Awards recognize the analysts whose forecasts submitted to the monthly
Consensus Forecast
survey are the most accurate. The 2018 Analyst Forecast Awards recognize the top forecasters in 2017 for 23 commodity prices and the top economic forecasters for 80+ countries worldwide across the following categories: Overall Best Forecasters, GDP, Fiscal Balance, Inflation, Interest Rate, Exchange Rate, and Current Account.
FocusEconomics is a leading provider of economic analysis and forecasts for 127 countries and 33 commodities. Each month, FocusEconomics surveys over 900 economic experts from national and international banks, top financial institutions and economic research companies to obtain their projections for the main economic indicators and elaborate the consensus forecast, which is the average of all individual forecasts. FocusEconomics has established a solid reputation among the most renowned financial institutions, multinational companies, consulting firms and government agencies as a reliable source for timely and accurate business intelligence.
You can find the list of the top 3 forecasters per country, indicator and commodity, the methodology used and other valuable information
here
.
We would like to congratulate our researchers and wish them success in future research!