New edition of Croatian Economic Outlook: General government surplus in 2018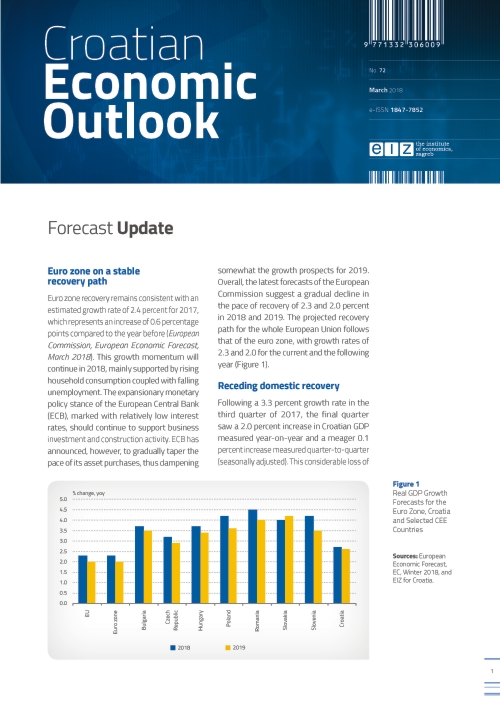 In the new edition of
Croatian Economic Outlook
(No. 72/March 2018) analysts from The Institute of Economics, Zagreb provide the latest forecasts and an analysis of economic trends in Croatia.
From this issue:
Budget surplus
Based on latest developments and taking into account changes in growth projections, we slightly revise our fiscal forecasts. For 2017, the government Budget deficit is estimated at around 0.4 percent of GDP. This year we expect general government surplus to be at around 0.2 percent of GDP, increasing further to 0.5 percent of GDP in 2019.

Threats on the fiscal front
The main risks to mid-term fiscal projections are coming from war veteran entitlements, potentially lower corporate income tax revenues associated with the crisis in Agrokor, and possible government liabilities from future court cases also related to Agrokor. In addition, there are plans of further functional integrations of hospitals in 2018, but it is difficult to expect that the healthcare sector arrears of around eight billion kuna will be properly addressed by this measure, indicating therefore that this sector continues to pose a threat to the positive trajectory of government finances.