Jelena Budak, PhD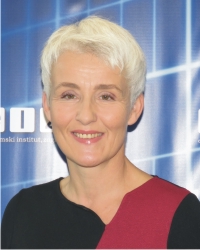 E-MAIL:
jbudak@eizg.hr
JOB TITLE:
senior research fellow in permanent position, assistant director, deputy head of Department for Innovation, Business Economics and Business Sectors
POSITION:
senior research fellow in permanent rank
Education
2005 PhD at the Faculty of Economics, University of Osijek
1992 MA at IFP-ENSPM, Rueil-Malmaison, France – Economics of Energy
1990 university degree at the Faculty of Economics and Business, University of Zagreb
Employment and work experience
since 2001 - The Institute of Economics, Zagreb
1997–2001 - Aquarius, Zagreb – export director
1996–1997 - Alfatec, Zagreb – product program manager
1994

–

1995 - Alfatec branch in Kemerovo, Russia – deputy director
1993–1994 - Origo, Zagreb – assistant director
1992–1993 - Vitol Oil Trading Co., London – representative for Croatia, Zagreb
Fields of interest
privacy in an on-line environment
institutions and public sector policies
the quality of public governance and corruption
Selected bibliography
Budak, Jelena, Edo Rajh, Sunčana Slijepčević and Bruno Škrinjarić. 2021. Conceptual research framework of consumer resilience to privacy violation online, Sustainability 13(3), 1238.
Škrinjarić, Bruno, Jelena Budak and Edo Rajh. 2020. Perceived quality of privacy protection regulations and online privacy concern. Ekonomska istraživanja-Economic Research 33(1), 3492-3508.
Budak, Jelena, Edo Rajh, Goran Buturac and Anamarija Brković. 2020. Tobacco Gray Market in the Western Balkans. Journal of Balkan and Near Eastern Studies 23(1), 62-76.
Anić, Ivan-Damir, Jelena Budak, Edo Rajh, Vedran Recher, Vatroslav Škare and Bruno Škrinjarić. 2018. Extended model of online privacy concern: What drives consumers' decisions? Online Information Review 43(5), 799-817.
Rajh, Edo, Jovanov Apasieva, Tamara, Budak, Jelena, Ateljević, Jovo, Davčev, Ljupčo, and Ognjenović, Kosovka. 2018. Youth and Entrepreneurial Intentions in four South East European Countries, International Review of Entrepreneurship 16(3), 355-382.
Budak, Jelena and Edo Rajh. 2014. Corruption as an obstacle for doing business in Western Balkans: A business sector perspective, International Small Business Journal 32(2), 140–157.
Budak, Jelena, Ivan-Damir Anić and Edo Rajh. 2013. Public attitudes towards privacy and surveillance in Croatia, Innovation – The European Journal of Social Science Research 26(1–2), 100–118.
List of publications (Croatian Scientific Bibliography – CROSBI)
Vrh